Homosexuality: Angola Decriminalizes Same-Sex Relationship See Consequences
A new law decriminalizing same-sex sexual relations went into effect on Wednesday, 10th February 2020 in Angola.
The new law overturned a colonial-era "vice against nature" provision that was seen as a ban on homosexual relations. The changes were passed in January of 2019 by Angola's parliament but were not signed into law by the country's president until November 2020. The new law also prohibits discrimination based upon a person's sexual orientation.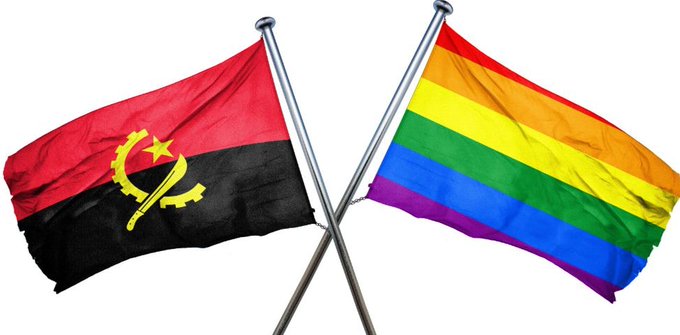 Activist Jean-Luc Romero-Michel tweeted the move was "a great step forward" in the fight against state-sponsored discrimination against the LGBTQ+ community.
The changes came from the first rewriting of the country's penal code since gaining independence in 1975. Angola had previously been a colony of Portugal, and the amended laws had been a remnant of the colonial-era rule the encouraging discrimination against the LGBTQ+ community.
According to Human Rights Watch, the previous laws on same-sex sexual relations had been rarely prosecuted but served as a basis for undue scrutiny and discrimination. The new law includes imprisonment of up to two years for discrimination based on sexual orientation.
At the time, the passage of the new law was seen as part of a broader effort strengthening the rights of LGBTQ+ people in the country. The government had given legal status in 2018 to the advocacy group Iris Angola. The group called the move a "historic moment" in defending the rights of the community in the country.
"This is an act of sovereignty by the Angolan State which, after 134 years of being governed in the criminal and criminal fields, with a code that has been in force since 1886, from the colonial administration, now has the penal code totally inspired by political reality, legal, cultural and social Angolan," Francisco Queiroz, minister of justice and human rights, said. at the time. "Therefore it is an aspect that must be underlined, this one of the consolidations of national sovereignty."
The move comes against a backdrop of continued violence against the LGBTQ+ community on the continent. In 2019, the leader of Uganda likened queer people to "terrorists" and last year police violently assaulted queer Nigerians peacefully protesting police violence against the community. Also last year, the government of Tunisia forcefully pushed back against efforts to recognize marriage equality after local officials had apparently recognized marriage between two men conducted in France.
Colonial-era laws outlawing same-sex conduct give tacit state support to discrimination against gender and sexual minorities, contributing to a climate of impunity. Iris Angola, the country's only gay rights lobby group, has often complained that its members face discrimination when accessing health care and education.
In 2020 Angola gave legal status to Iris Angola, which was established in 2013 – a move that can now be seen as a forerunner for this latest step toward equality. The group called the decision an "historic moment" allowing the organization to defend the rights of sexual minorities in Angola. In contrast, Mozambique, another former Portuguese colony, decriminalized homosexuality in 2015, when it too adopted a new penal code, but declined to register the country's biggest LGBT group, Lambda, leaving it to operate freely, but not legally.
While countries such as India have been compelled by court rulings to strike anti-homosexuality laws from the books, others have done so through legislative reform. Recent examples include Sao Tome and Principe (2012) and Cape Verde (2004) – two other former Portuguese colonies – as well as Lesotho (2012) and Seychelles (2016) in Africa, and Palau (2014) and Nauru (2016) in Oceania.
In casting aside this archaic and insidious relic of the colonial past, Angola has eschewed discrimination and embraced equality. The 69 other countries around the world that still criminalize consensual same-sex conduct should follow its lead.
Meanwhile, Nigeria is the largest black country and giant of Africa is also expected to also 'melt' its 14-years in prison Goodluck Jonathan law decree against same-sex relationship in the country – Bill (SSMPA)
Without wavering, GBETU can confirm thousands of LGBTQ 'breeds' in the country that are just waiting for this move by the government.
Also recently, the new President of America, Joe Biden threatened to sanction countries that have refused to make laws to accommodate Lesbian, Gay, Bisexual, Transgender and Queer and Intersex (LGBTQI) people.
Biden issued a presidential memorandum aimed at expanding the protection of the rights LGBTQI people worldwide.
Sanctions against such nations may include financial punishment.
Nigerians, especially those from the entertainment industry are coming out boldly as gay in recent days. This means that the current administration of President Muhammadu Buhari may not be interested in adding the fight against LGBT to that of corruption, insecurity and drowning economy.
Many Nigerians are now bold enough to come out as gay. For instance, a few days ago, a video went viral where an up and coming Nigerian movie star and model, Godwin Maduagu was seen having explicit gay sex with another Nigerian who did nothing to veil his face.
And barely 24 hours after Maduagu's sex video went viral, another Nollywood actor, Uche Maduagwu came out publicly as gay.
Maduagwu made the declaration via his Instagram page on a Thursday, asking his followers to learn to accept and respect other people's choices.
Uche, known for attacking and making vile slurs about other actors and important personalities, shared a photo of himself with a caption, "Proudly Gay."
But before then, Bolu Okupe, son of former presidential spokesperson, Doyin Okupe, had also announced his sexuality, declaring himself a homosexual.
But while he may be somewhere in the US, the likes of Uche Maduagwu and Godwin are here in Nigeria despite the country's laws against the act.
Many more will come out in the near future while many others like the popular cross-dresser, Bobrisky, have directly or indirectly made their homosexual status known.
Many Nigerians are now of the view that the current Nigerian leadership may not be exactly interested in the existing legislation against LGBT practices considering the ideology of the current US government. Even though this may not exactly be the reason, government's helplessness and inaction despite the current declaration by some Nigerians that they are gay have put many people in doubt as to the effective execution of the said legislation.
Nigeria is categorized as a homophobic country due to its anti-gay posture, which has been increasingly criticised by global rights groups.
The anti-gay laws in Nigeria, a leading ant-LGBTQI country in Africa, prescribes between 10 and 14 years in prison for anyone caught flouting the law either by cohabitation between same-sex sexual partners, public show of same-sex relationship, registration, operation or participation in gay clubs, societies and organisation, amongst others.
Whether the present administration in Nigeria will bow to the pressure from the US government and revisit the country's anti-gay marriage law remains unclear at the moment but the Nigerian government hope to have a deep working relationship with the new government as stated in its congratulatory message in January 2021 signed by Garba Shehu.
"We look forward to the Biden presidency with great hope and optimism for the strengthening of existing cordial relationships, working together to tackle global terrorism, climate change, poverty and improvement of economic ties and expansion of trade.
"We hope that this will be an era of great positivity between our two nations, as we jointly address issues of mutual interest," the president added.
Anyways, Biden's memo reads, "When foreign governments move to restrict the rights of LGBTQI+ persons or fail to enforce legal protections in place, thereby contributing to a climate of intolerance, agencies engaged abroad shall consider appropriate responses, including using the full range of diplomatic and assistance tools and, as appropriate, financial sanctions, visa restrictions, and other actions.
"All human beings should be treated with respect and dignity and should be able to live without fear no matter who they are or whom they love.
"The United States belongs at the forefront of this struggle – speaking out and standing strong for our most dearly held values."
The memo directs US agencies working in foreign countries to work harder to combat the criminalisation by foreign governments of LGBTQ status or conduct and directs the State Department to include anti-LGBTQ violence, discrimination and laws in its annual human rights report.
It calls for increased efforts to ensure that LGBTQ asylum seekers have equal access to protection, expanded training for US federal personnel, and potential increased use of priority referrals to expedite resettlement of vulnerable people.
It also instructs agencies to consider appropriate responses, including the full range of diplomatic tools, and potentially financial sanctions and visa restrictions, when foreign governments restrict the rights of LGBTQ people.
Biden announced the push during a forceful speech at the State Department, vowing to rebuild US credibility worldwide.
"To further repair our moral leadership, I'm also issuing a presidential memo to agencies to reinvigorate our leadership on the LGBTQI issues and do it internationally," he added.
Recall that with less than two weeks to the end of his administration, former President, Donald Trump had weakened the protection for LGBT community by rolling back non-discrimination protections for such people seeking the services of health and welfare programs funded by the US Department of Health and Human Services.
Few days after Joe Biden emerged winner of the November 3, 2020, presidential election, Dr. Emeka Nwosu, a former Special Adviser on Media and Public Affairs to ex-Senate President, Evan Enwerem, had told Africans, especially Nigerians that Biden should not be judged by the works of his former boss, Barrack Obama, who sanctioned LGTB rights and promoted Antichrist.
Nwosu noted that most people in Africa who were reluctant about Biden's candidacy was because of issues such as LGBT and antichrist.
He said Nigerians should, however, expect and hope that Biden runs his presidency different from that of Obama even though he was part of the government for eight years.
We take this new decree as a shock for Dr. Nwosu and many of Biden's supporter across Nigeria.